RentsBuy won the Property Award 2017
The event was held at the Marriott Marguis, Queen's Park, Bangkok, Thailand from 25-26 May 2017, there were about 300 participants from over 50 countries across Asia Pacific Region from Archetecture, Design, Development and Real Estate Sectors.
International Property Award or IPAX, IPAX Asia Pacific presents a proven networking opportunity property professionals including Presidents, CEOs, MDs, Chairmen and other major decision makers. Through its combination of business seminars and an exhibition, IPAX Asia Pacific forms the ideal environment in which to strengthen existing business partnerships, It also provides valuable opportunities to generate sales and form new connections within the property industry.
The companies attending are collectively responsible for billions of dollars-worth of residential and commercial projects across the Asia Pacific region as well as worldwide. They regularly spend millions of dollars on furnishing and fitting out their development projects, making this event the ideal opportunity to showcase a wide range of products and services.
This event is one of five taking place across the world: IPAX Africa and Arabia, IPAX Asia Pacific, IPAX UK and Europe, IPAX Americas and IPAX International.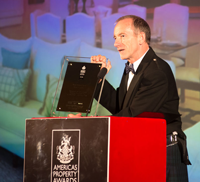 Attendance at all IPAX events is free and offers an excellent opportunity to meet and do business with award-winning developers, architects, interior designers and property agents around the globe.
RentsBuy Sole Co., Ltd won the award in property consultancy.
"This year 2017 award, we have welcomed representative from Laos which is the first year of Lao Participation in the award" said Stuart Shield at the Gala Diner at Marriotte Hotel, President of the International Property Awards.
The International Property Awards was launched in 1994 for residential and commercial property professionals from around the globe. They celebrate the highest levels of achievement by companies operating in all sectors of the property and real estate industry. An International Property Award is a world-renowned mark of excellence.
" I was so excited and so overwhelmed to be at the international stage among the international network of property people and be the Lao presentative here" said Mr. Houmphan Saiyalath or Tony, the Managing Director, RentsBuy Sole Co., Ltd