Welcome to Rentsbuy; "Rent-sabai" is a wordplay incorporating 'rent' and 'buy', the two main trades on this largest leading property-listing platform locally. Rentsbuy ("Rentsabai") defines the same courtesy in the local greeting "sabai" to mean ease and pleasantness for our clients in their search for their desired property. Additionally, we earn the nick name by "Rents & Buy Property".
Vision
Leading the Lao Property & Real Estate Broker Industry
Mission
Enabling young generation engaging in real estate service professionally to service client
Gathering the real estate brokers and establishing the Real Estate Association of Laos (REAL)
Along the way, we service our clients to find their ideal properties in timely manner
Striving for RentsBuy We/App to be the center of Lao Real Estate who can list and obtain market informed information.
Core Values
Experience – We prioritise experience through hands-on-learning for effective long-term goals primary to short-term lucrative goals.
Modern – We aim to continually lead the real estate industry with modern concepts and our advantage in digital marketing & state-of-the-art technology.
Knowledge – We are committed to staying educated and connected in our field so our clients' will be the best informed of their investment decisions.
Talent – As employers we are committed to nurturing our team members to the success they work hard for. We encourage individual talent and strengths and work to develop these towards the best achievement.
Collaboration – We look beyond tasks and challenges in our environment to give focus to teamwork and partnership qualities. We believe this is most effective to harness the best performance from the team as to give and be the best for our clients.
Our Beginning / More About Rentsbuy /
Rentsbuy Sole Co. Ltd is a professional real estate broker agency officially established in 2008, founded by a group of young real estate professionals who were passionate about the industry. We are currently licensed under the Enterprise Registration Office (Reg. No. 0182), Domestic Trading Department, & Ministry of Industry and Commerce since 9th September 2008.
Today, Rentsbuy is the award-winning, leading professional real estate company in Laos offering a widely extensive listing of superior quality properties to include residential estates, waterfront homes, serviced apartments, offices, land parcels, factory, warehouses, & commercial and industrial properties for rent or purchase. Our highly-experienced team of consultants are preferred for their courteous honesty in advice and service to facilitate good and reliable dealings in our clients' best interest. We are also prominently the trusted property valuation experts in Laos.

Rentsbuy was awarded The Best Property Consultancy for Lao PDR in the Asia Pacific Property Awards 2017 and is also affiliated to the ASEAN Real Estate Network Alliance. We are continually committed to delivering a world-class benchmark in all aspects of services to be reflective of our goals and mission which prioritises the development of the local industry and the satisfaction of our clients.
Rentsbuy's Team and Network national wide

Since RentsBuy is open system technically and academically, we conduct several Real Estate Seminars throughout Laos, and yet to come, we are able to establish our agency's network, we actively operate in following areas:
Vientiane Capital– Where our head office located, lead by Mr. Houmphan Sayalath (Tony), we have about 9 agents.
Largest Lao Real Estate Network, Provincial Team, we have local partners at

Luang Prabang Province
Vientiane Province, Vangvieng District
Khammuan Province
Xiengkuang Province
Huaphan Province
Savannakhet Province
Champasak Province, Pakse District
Map of Lao PDR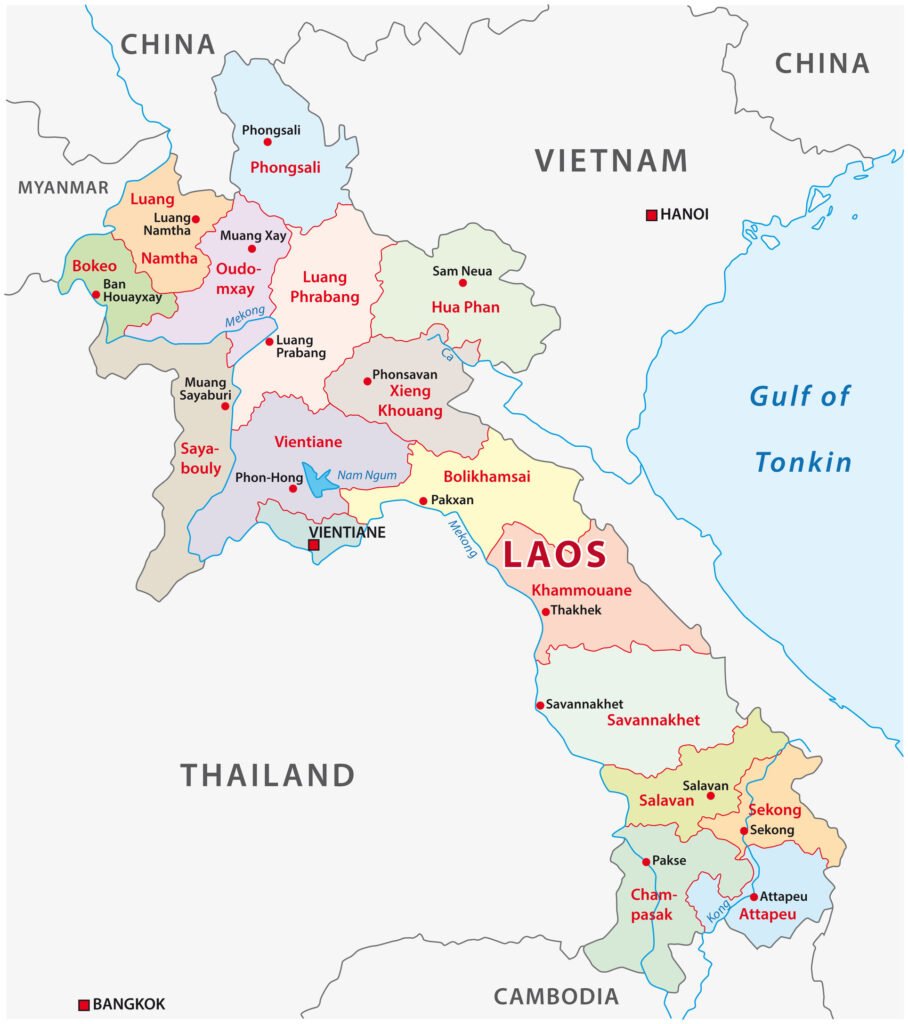 We are currently expanding our team of partners in regions throughout Laos. Whether you are an individual or a company who wishes to explore this full-time or part-time, we welcome your applications! Our next partner for success could be you! – "Work Together, Succeed Together!"
Associations & Memberships
Lao National Chamber of Commerce and Industry, member
Saysettha Chamber of Commerce and Industry, Executive Vice President
Lao Young Entrepreneur Association, Board member
BNI, Gold Chapter, in Laos
Business hours:
From: Mondays to Saturdays:   8:00 to 12:00 AM
1:00 to 6:00 PM
Off business hours: It needs to arrange with us in advance.